It's over a decade now since the first of the Coronavirus pandemics rocked the world. Life has changed beyond recognition. Fortress Britain is once again an island, floating a mere 21 miles from the beleaguered continent and secured by the Border Protection Agency, armed with deadly weapons, and orders to shoot to kill.
Barry Saint-Albans is a small part of the BPA, guarding the shoreline, but when he fights off groups of illegals successfully making it across the litter-clogged Channel, he suspects there is corruption inside the organisation.
Barely escaping with his life after a new incursion by heavily armed migrants, he takes pity on one of them in direct violation of his orders. She is desperate to publicise vital information which threatens the whole world order. The knowledge she shares effectively condemns them both to death... if they are discovered.
That was probably the last time Barry was able to tell the truth. Hiding his refugee adds to the fictions he uses to explain to authorities noting his increased power usage, larger food bills, and his purchase of ladies' toiletries. To add to his problems, he is running the house with an artificial intelligence system connected to the Multinet, that hasn't yet learned to bend the truth. His new housemate is uncovered before she can pass on the data she carries, and after incursions from her people and his, they are forced to flee.
The journey takes them halfway across the planet, with the threat of this Scared New World ever at their heels.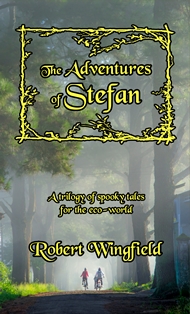 A trilogy of spooky tales for the eco-world.
Far away from the commotion and clamour of the capital is an island steeped in myth and magic. Stefan Sorensen is lucky to live there and shares a house with his parents and two recently fostered children from the city, Freya and Lars.
Emboldened by his new companions, Stefan takes them into a mysterious forest, firstly disturbing a coven of witches who mistake them for dinner, then enraging the woodland guardians, and finally into a desperate fight against developers determined to turn the woodland into a holiday village.
This collection includes updated versions of the stories, 'Stefan and the Sand-Witch', 'Stefan and the Spirit of the Woods' and the previously unpublished 'Stefan and the Summer Ghost', and explores some of the mythology of Scandinavia and the perils facing the whole Earth in modern times.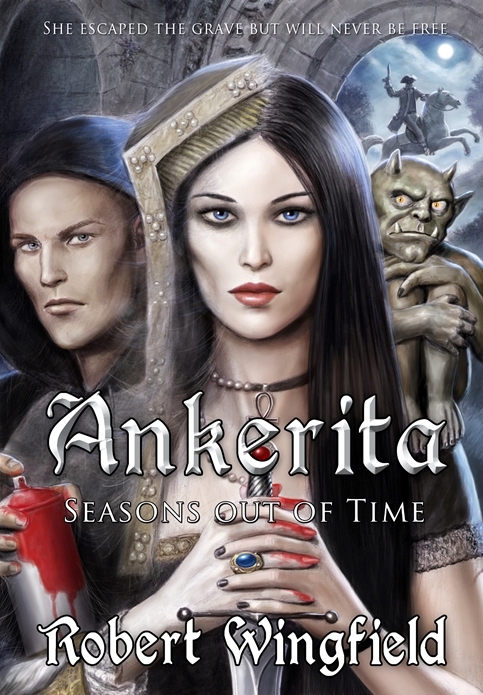 In Tudor times, the blow of a knife ended Ankerita's unhappy marriage, and condemned her soul to a living death.
There is a chance to atone for her crime, but 500 years have passed, and the new world she awakens to contains not only the shadows of the past, but also the nightmares of the present.
She is thrown into a desperate flight to stay ahead of police and criminals determined to end her freedom, and the demons who want to drag her back into the silence of the grave.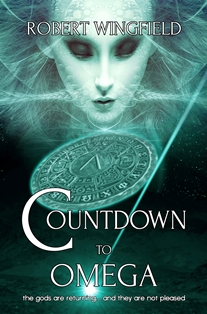 Ancient Aliens meet Greek gods in an epic confrontation that spells the end of the world."
The strangers came, and they were not like us. Something else, but wearing the skins of men, the eyes of men, their hands..." Ishur Ninku, Sumer, 4000 BCE.
On a paradise planet, the far side of the sun, Anthea, cast out of an isolated colony of refugees, shelters from a firestorm of meteorites. The Gods are returning, the vanguard of a race who were abandoned by her own elders millennia ago. Their arrival triggers a countdown on an alien artifact, given to her as a child, and a chain of events that can only lead to deadly conflict. Anthea's amulet holds the key to salvation, or her own death, but will the elders and the Gods listen to reason before the planet is devastated?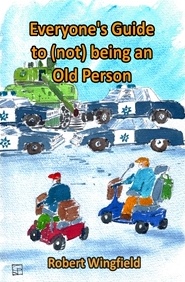 We all know someone older than we are. Some of us even have parents who might fit that description. There are also folks out there you might describe as 'old people'.
Anyone can become an old person (OP), but what turns a perfectly level-headed human into an OP? We all get older, and at some point we might be worried about changing into an OP ourselves, or we may merely feel the need to mock someone who is displaying the symptoms.
This is a tongue-in-cheek manual for everyone; how to behave if you are an old person, how not to behave if you want to resist becoming an old person, or how really have some fun mocking an old person.
Alas there is no secret to eternal youth revealed here (perhaps in the next study, due in 2090) but if you know what to look out for, you are in with a chance of a longer life; you will become to realise that getting old is not inevitable, and if you really want to, can be avoided like a plague of boiled sweets (you know the ones).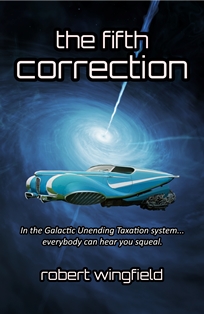 There is a theory that death is not the end of existence, but is simply a shift into an alternative universe. This is true and keeps happening to Tom Two-Dan $mith (sic). Usually, one forgets everything of the past and starts a new life. Tom is not so lucky; he remembers. In his last transition, he became the head of a large corporation, famous for doing something, but nobody knows what, including the staff. He is still investigating. To make life more difficult, the Temporal Conduct Authority, who don't believe the above theory, and are miffed about the fact he has shamelessly flaunted the Laws of Time and Space, are looking to return him to his proper place in the universes (i.e. completely dead).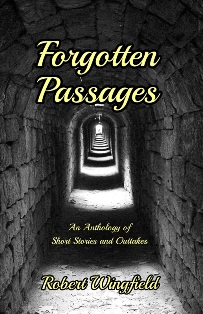 The first encounter with a woman from half a millennium ago, a haunted house by the park, quirky retelling of Greek myths, an insight into the origins of the Arthurian legends, and additional sections from science fiction novels are all part of this collection of works from the prolific author, Robert Wingfield.
Included are several of his short stories which are no longer available, some originally only published in digital form, and his idle thoughts on water companies and self-driving cars. Some of the characters can be found in the Dan Provocation series and the Ankerita trilogy, The Seventh House, of which we include the shocking beginning to a fourth novel in that series: a flavour of things to come.
The Inca Project is delighted to bring you such a collection of rare short stories for your enjoyment, and an insight into the Wingfield World.
When Tom's non-payment of a parking fine coincides with the breeding season of his security forces, and the rise of a vehicle storage junta, he is forced into a life as a fugitive. Using a converted cruise ship, he sets about kicking back against extortionate car parking charges, the proliferation of revenue speed cameras and the new 10 mph national speed limit. Regrettably, the laws of the land don't apply to the rich people who might have done something about it, or the poor, incarcerated in enclaves of antisocial housing, so Tom's reign of piracy, despite offering loyalty cards to the victims for being repeatedly plundered, quickly comes to an end when he loses his life in a freak copper-sodium flavoured pizza incident. Is there any hope for the common citizen, now that the figurehead of insurrection is gone, and the authorities continue to impose draconian traffic controls across the galaxy?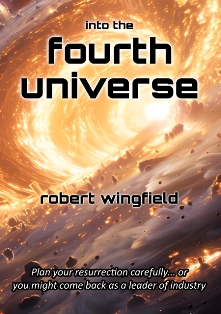 Just when he thought he was dead and could have some time off, Tom Two-Dan $mith (sic) is catapulted into the leadership of a big business, in a chaotic world where bureaucracy and process have taken over from all logic and good sense. Everything seems to perpetuate an organisational structure, but nobody knows what his company actually does. Tom's challenge is to find out, and track down who is really in charge. Add into this multiple attempts on his life as people try to stop him, his quest to find true love, an investigation into a murder without a victim, the first rule of being a private investigator, and the impending total collapse of four universes, and we have a tangled knot that even Alexander the Great would have trouble cutting.
Tom has to do something, otherwise it will be the end of everything he knows, and quite a few bits he doesn't. A lusty romp through everything wrong with business and life today. Adults only, and only those not easily offended... and, of course, managers everywhere.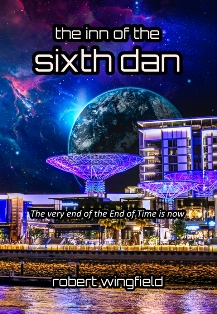 At the very end of Time is the Star Palace of the Sombre Warrior.
Alas, the Warrior has finally decided to be cheerful, and retired to farm bees instead, nominating Tom, Two-Dan $mith (sic) as successor. Tom finds this convenient—he is on the run from the Financlia (sic) Police, who think he owes them for a bad investment made long in the past—but also inconvenient—the End of Time is being invaded by the multi-limbed quadrillipods, who have eaten everything else in the multiverse, and are now keen to break into the Palace, and finish off the rest. Tom has to repel the invasion, with no weaponry whatsoever.
From the End of Time, everything that came before it is readily available, if you can travel backwards in, for example, a clapped-out Time Cylinder, so all he needs to do is collect something to use against the intruders.
Cut to retired private investigator, the Magus, given a seemingly simple task of finding out who is trying to murder his friend, Gottstein. Apart from selling on some faulty methane-powered undergarments, the Magus discovers that Gottstein is also refusing to pay his TV licence. The long arm of the Galactic Broadcasting Hypocrisy is extending in their direction.
But how is this linked with the kidnapping of the Magus's soulmate, Tom's troubles, and Mrs Tuesday, the eternal tea-lady?
Trust me, it is, and at the end of the day (literally), can they all pull together and save the destruction of the End of Time, and everything else that came before it?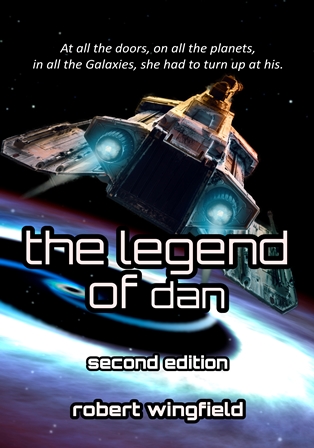 Tom, Two-Dan $mith (sic) thought his life couldn't get any worse, until a gorgeous alien turns up at his door, and drags him off on a quest to sort out the company responsible for all the troubles in the galaxy. But as is usual with Tom, what glitters is nothing more than polished coal. His guide has another agenda, using him as cannon-fodder. Taken in by her charms, he follows her directions, surviving by sheer luck and circumstance only, to the very end of Time itself, and discovers a confluence of unimaginable universes and an alien plot to take over the lot. If that wasn't bad enough, Tom has to challenge a super-intelligent being, created by a brewing accident and a lot of radiation... and our man's not even sober by now.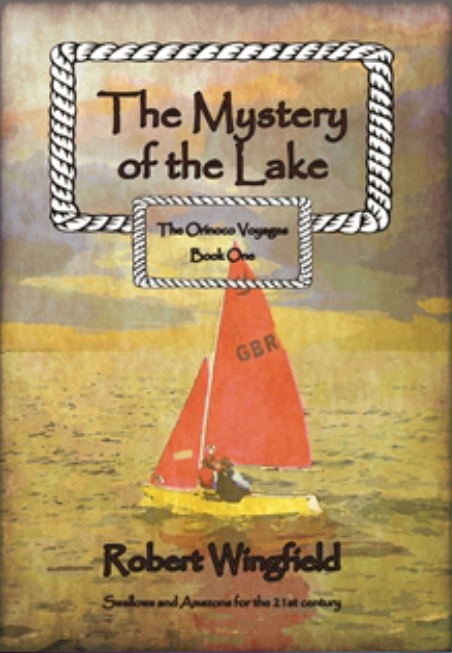 A rough treasure map, discovered in a neglected dinghy, starts two boys on a set of clues, each one bringing a greater reward. It's not plain sailing (as they say), because all the way, they are dogged by a modern day pirate, who wants the treasure for himself.
They think they have escaped him when they travel north to the remotest part of the Lake District, but then fall foul of a gang of desperate criminals. While their family is besieged, the boys make a break for it in their dinghy. Will they ever find the treasure, or simply be lucky enough to escape with their lives?
Swallows and Amazons for the 21st century.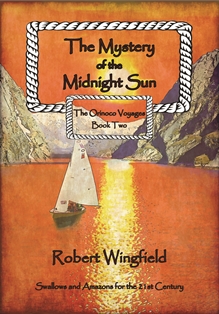 Swallows and Amazons meets The Famous Five for the 21st Century.
Springtime: Terry and Paul are looking forward to getting their beloved dinghy, Orinoco, back on the water. Perhaps, this year they can concentrate on sailing without running across criminal gangs or having another adventure searching for treasure.
Unfortunately the criminals have other ideas. As witnesses, the boys and their older siblings, BJ and Graham, are a possible link to putting them behind bars, and anything might happen before they come to trial. All the youngsters have to do is lie low at their new cottage in the Lakes, keep out of trouble and not use social media… easier said than done. Their cover is blown, and they have to make a desperate escape, ending up in a remote village in Norway.
Safe now? Not this bunch of youngsters. It's a case of frying pans and fires!
Danger, intrigue and treachery follow... and that's just a normal day's sailing.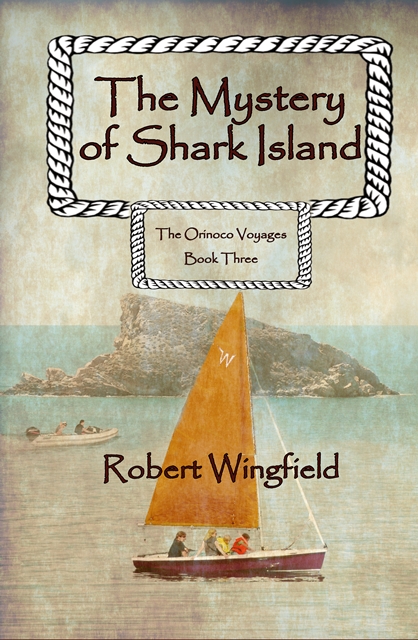 Swallows and Amazons meets the spy thriller.
Marooned on a remote outpost in the Greek archipelago, BJ, Graham, Paul and Terry think they are safe from the criminal syndicate they helped to expose in their previous adventure. It is not long, however, before a chance find of a thumb drive throws them into another mystery, and triggers a chain of events that puts their lives in mortal danger. Who is the ever-present Cigarette-Smoking-Man, what data can possibly be on the thumb drive that is so important to desperate men, and who is sending mysterious signals from Shark Island? From a cave supposedly inhabited by a Gorgon, to an old castle that really isn't, and a secret military base under threat, their supposed hideaway soon turns into conflict with a deadly ring of spies.
The adventurers have never been in so much danger.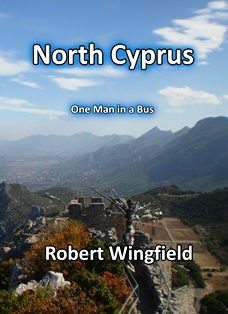 The thing that struck me most about The Republic of North Cyprus (TRNC) is that there are few travel guides that tell it like it really is. To experience a country on your own gives you freedom, but you can potentially miss many sights, so either go for a guided tour, or follow the trail detailed in this book.
If you holiday in high summer, then sitting on a Mediterranean beach is what you are looking for. It is probably too hot to explore, but if you want to choose a place with the best exchange rate, you can't do any better than TRNC. Food and drink are of high quality and low price. However, that is not why I visited the country. I am interested in the history of the place, meeting the people and experiencing the culture. Because the British were here for 85 years and left in 1963, TRNC has a wonderful feel of having been frozen in time. Driving on the left side of the road, stopping at familiar traffic lights and seeing speed cameras ready to catch the motorist, all help with that feel. Most people speak English too. There is a Muslim culture here, but the overall feeling is one of relaxed devotion. The five-daily call to prayer is mostly ignored by the populace.
To see it properly, I decided on a guided tour. Our guide was a lady who has lived in TRNC all her life, but travelled widely in the English speaking world, so her translations were faultless. She was so good that I couldn't even trick her with our quirky phrases such as 'Know what I mean, John," and "Leave it out."
We were taken to many of the major sites in the country and given a very good historic background to each, all from memory. I never saw her with notes. I of course took lots, writing them up on a handheld device each evening before the wine levels reached eye height, and it is these, along with a great deal of extra research that are summarised in the book.
As with all my writing, there is an underlying element of humour – real life is funny enough if you look at it the right way.
I have added my own photographs, so apologise for the price of this book, but this is the actual cost of printing. I hope you enjoy the adventure.
This is the colour photograph version of the set of North Cyprus books. There is also a cheaper one with monochrome photographs (North Cyprus – One Man in a Grey Bus) and a pocket guide that really will fit in your pocket, especially for keeping with you as you explore for yourself. (North Cyprus – One Man in a Pocket.) As with all of these, 50% of the royalties will go to Kyrenia Animal Rescue for their untiring work with the stray animals ion the island.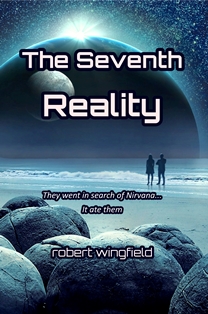 Rescued from a dying planet, Barry Saint-Albans, the second greatest detective in all the universes, is given a simple task: track down the missing son of the captain of a belligerent star ship that is threatening the Inn of the Sixth Dan on the very edge of uncharted space.
Unfortunately, said son has joined a procession of pilgrims heading off into the unknown in search of peace, answers to why we are all here, and where we came from before everything went pear-shaped.
None have ever returned.
Barry is tasked with finding out what has happened to the missing travellers, with a restricted time frame and instructions to bring back the missing son alive, dead or in gaseous form, before the inn is destroyed.
The trail takes him into a preposterously populated unknown, through a frontier settlement, a tax haven for despots and oligarchs, an exile planet for road planners and a stone age society run by an old enemy (or at least one of his cousins).
The ultimate answers are revealed, but will they be enough to prevent Barry meeting the same fate as the pilgrims and the Inn ceasing to be, and how does this all fit in with the killing of the ruling family in a devastated star system back home?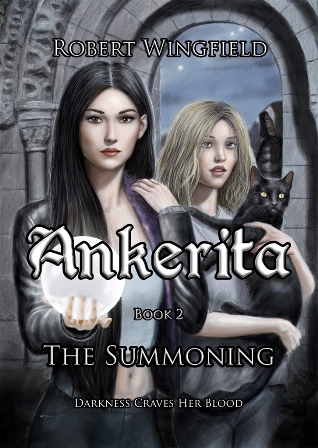 A fast-moving Gothic thriller, alternately funny, sinister, sexy and evocative, calling on many elements of the supernatural as well as contemporary issues, as experienced through the eyes of a feisty heroine without a recorded identity.
Ankerita, a Tudor noblewoman released from her tomb after nearly 500 years of disturbed sleep, is still desperately trying to stay one step ahead of traffickers, the evil organisation that needs her for her blood, and the demons still trying to reclaim her soul.
She becomes aware that her best friend is dying, but that there is a chance the friend can be cured if Ankerita can complete a ritual known as the 'Summoning'. She needs to track down a number of powerful treasures, hidden long ago by a sorcerer from Celtic legend.
The ritual has to be evoked on a specific night when five planets align for the first time since she died, but her pursuers are ever present, and if the invocation is disturbed, it will be Ankerita who loses her life. As per 'Ankerita, Seasons out of Time', the first novel in this series, all supernatural content is based on existing sightings, legends etc., some of which have been experienced by the author personally, and the occult procedures are a combination of documented rituals and methods.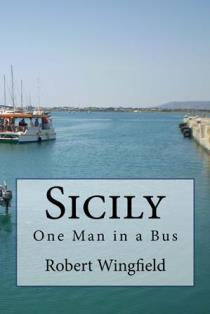 This book is not intended to be a Lonely Planet guide to the Jewel of the Mediterranean, but actually a lighthearted diary of events on a guided tour, and of course, humour is largely subjective. Recently updated, you'll learn about the island as we go, however, and hopefully smile a bit on the way. Try picking a good tour operator for the insights and history that normal tourists miss completely, add a smattering of reflection and adventure recording a travelogue of Sicily, the focus of much history of Europe, and you have this, a journey unfolding and piloting you on a tour around this beautiful island, that everyone with an interest in history should visit at least once in a lifetime.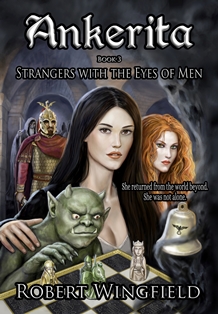 A contemporary Gothic tale of horror, blood, sex and corruption.
Ankerita sacrificed herself, saving the life of her friend, but a promise she made to an enchantress from the sixteenth century hauls her back.
The world she returns to has changed. Strangers from pre-history are waking to resume their age-old battles, and the spectre of the Nazis rises again.
Ankerita is thrown into a power struggle between two primal factions, and is forced to use her arcane links to petition for aid.
Together with a Dark Ages chieftain, she descends into Limbo to rescue the witch, but unwittingly releases an evil, supposed to be held there for eternity.
And now, the execution bell adds its terrible call, awakening more of the ancient Strangers with the Eyes of Men from their millennia of waiting.
A comic travelogue to and from the Greek island of Syros, one of the lesser known and certainly lesser reported holiday destinations in the whole Mediterranean.
If you want to sit on a beach, you can do that anywhere, but to appreciate the empty spaces, away from the usual holiday destinations, you can't do much better than a trip to the Greek Islands.
Avoid the usual tourist traps of Mykonos and Santorini if you can, and follow my trail into the unknown.
The tale incorporates the whole experience, from the trials of negotiating the airport, through the calculated lack of coordination of plane and ferry, and past the ladies touting their (possible) accommodation, before final arrival.
Once there, Syros is explored in detail, and features, amongst many other observations, the eternal 'Cigarette Smoking Man', the beggars that give receipts, a Greek Basil Fawlty, and why self-driving cars on the island would be a 'Really Bad Idea'.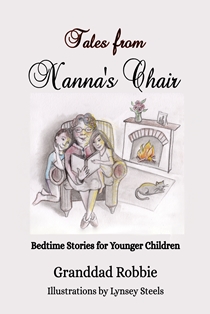 Not just a book of stories:
With the prevalence of social media and other pressures on youngsters today, it is more important than ever to spend quality time with your children. When better than at bedtime? An intimate conclusion to the day will help them get to sleep, have better dreams and more rest, safely away from the stresses of modern life.
A friendly elephant responding to mistreatment by thoughtless campers, a rescued snake turning into a rescuer, a boasting frog humbled after a narrow escape from a crocodile and a rat saving a ship from sinking are just some of this collection of short stories especially for reading out loud to younger children. Each one contains fun and excitement, and usually a moral which can be discussed afterwards... if your young listener is still awake.
This book contains seven bed-time animal stories for younger children. Some are based on Nanna's real-life experiences when she lived in Africa, and all feature likable creatures brought to life in engaging tales.
Tom wakes after an accident to find he has mislaid a load of years, his body and a whole planet. In search of his lost love, he becomes the ultimate commuter, moving into a new universe, where the Second World War had gone on rather too long, and Scotland gained independence.
If that wasn't bad enough, another faction is determined to collapse the whole of creation and a liberation force from the US, spoiling to try out some new kit, joins the fray, and goes for total annihilation. It's Tom's job to save the lot, aided only by a bunch of slaves and a bit of alien technology.
One of the problems with hopping between universes is that there is a faint chance you can meet yourself. That can't happen of course, and so it does, exactly at the point where the whole fabric of space and time breaks down.